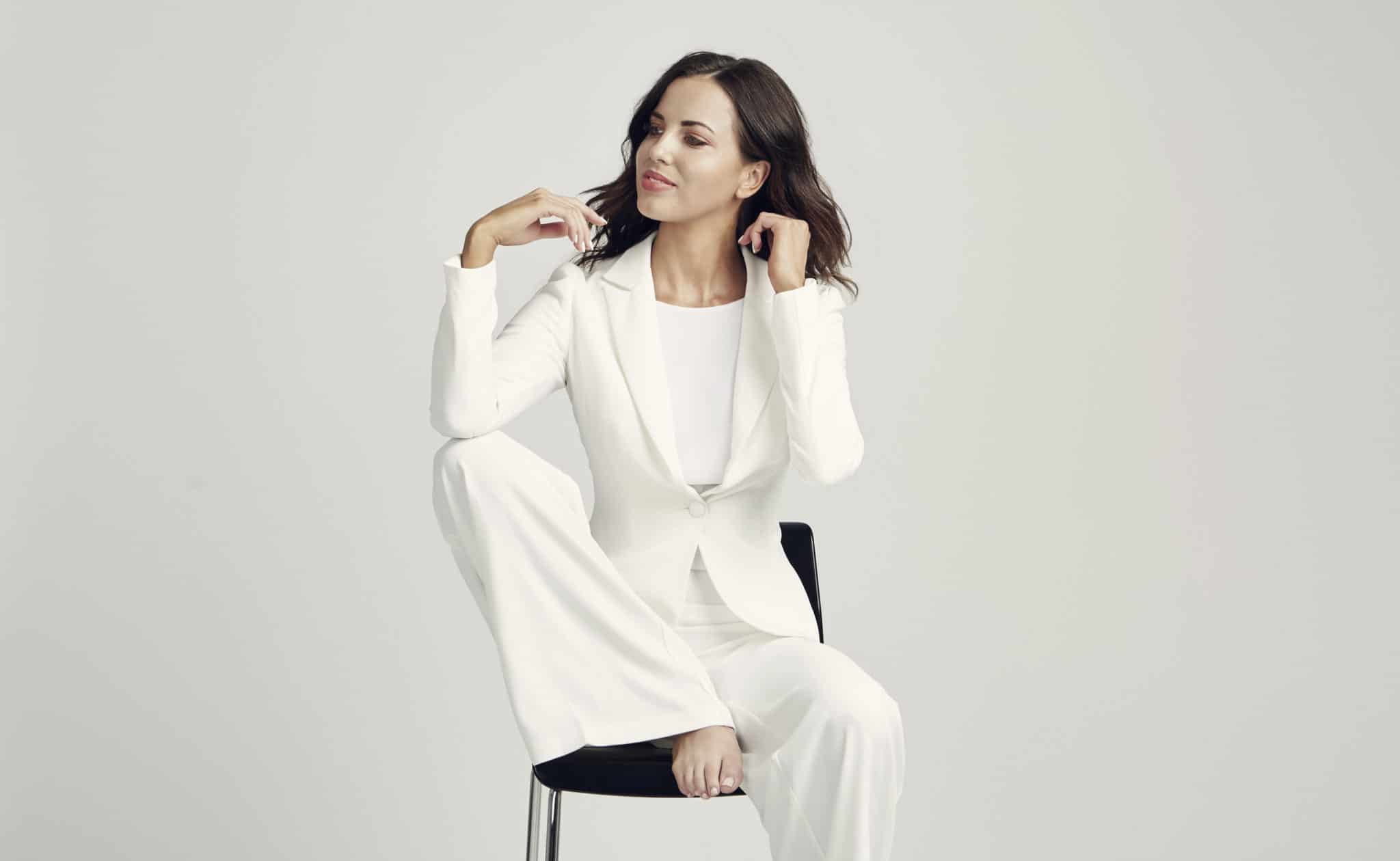 WHY TIKTOK REALLY WORKS FOR LUXURY BRANDS
Before we get to TikTok's potential for luxury brands, let's first take a look at the social app and its significance for marketers. It's an undeniable truth that TikTok has exploded onto the social platform scene. As of writing, it is the most downloaded free social media app, and is second only to Zoom in most app downloads, according to Sensor Tower.
Back in September 2019, TikTok's VP Blake Chandlee suggested that while the app was not yet at 1 billion users, its user base was over 500 million. Earlier in 2020, Hootsuite and We Are Social predicted TikTok's users to be in the region of 800 million, making it the 6th most used social app in the world.

How TikTok Compares To Instagram
TikTok's premise is simple, but in that simplicity it cleverly leverages the same model that made rival social media app, Instagram, popular. When Instagram launched back in 2010, its attraction was that it gave the average person with no prior photography experience the tools and platform needed to become a photographer – slick filters and easy-to-use enhancing options could make anyone's photos look incredible with just a few touches and swipes.
TikTok is built on the same premise, but it utilises video rather than image. Users can become pro videographers by easily recording and trimming videos, and adding music, filters, voice effects and more, all natively within the app. Users can then share their videos with friends, and browse the billions of videos shared by other users. As the videos are often highly engaging (even face aching hilarious) the explorative 'For You' area of TikTok is like a never-ending, personalised entertainment stream that users actually enjoy spending their time being engrossed in. In short, the app is addictive.
And yet, when it comes to luxury, the fuss over TikTok has been nowhere near as intense as it has for brands of other industries. This isn't necessarily TikTok's fault.
The Potential For TikTok And The Luxury Industry
Luxury, as an industry, is well-known for being slow to pick up on new technologies. It often prefers to sit in the back seat in terms of digital marketing, watching what others at the front are doing and then following suit, rather than leading the way. And up until recently, that's been okay.
But with TikTok continuing to garner incredible usage stats and becoming an increasing source of revenue for businesses, it's not something that any brands – luxury ones included – can afford to ignore.
So then, is there any potential for a platform based on short, hilarious videos watched mostly by tweens and teens to work for an industry like luxury?
We're speaking from experience when we say that we think there's huge potential.
 At Sociably, we've witnessed incredible numbers ourselves. Never wanting to recommend a new platform to a client without knowing exactly what we're talking about, we first took TikTok for a test drive back in early 2019. After getting familiar, we started posting content and then grew one luxury brand account by 10,000 followers in just one week. We've since successfully grown four brand accounts to over 700,000 followers in less than one year – and the numbers continue to rise. 
As we specialise in marketing for luxury brands, we of course wanted to see how videos like the ones we produce for our clients would work on TikTok. To be honest, we were sceptical: 10 to 15 seconds – the optimal TikTok video length – is a seriously short amount of time for a brand video. The vertical format is restrictive and, crucially, the audiences we were aiming to attract might not spend any time on TikTok. Even if they do, luxury brand videos might be the last thing they want to see when hanging out on the app.
So we were pretty stoked to see that posting marketing videos for luxury brands on TikTok worked. The engagement rates were far higher than we were expecting.
Here's an example of what we did to test-drive TikTok's capacity for luxury brand marketing.
Case Study: TikTok Marketing Videos For A Luxury Car Brand
We were invited by Bentley to the launch event of their radical new concept car, the EXP 100 GT – an electric, driver-less, ultra high-tech "vehicle of the future". Although we had actually been contracted to produce some content for Instagram, we saw potential for the content to also work on TikTok, so we repurposed some of what we had filmed and set out to test TikTok's waters.
We seeded the content to the leading luxury TikTok page, "The Luxury Living". We showcased the side and front of the stunning car in an 11-second clip with a music overlay.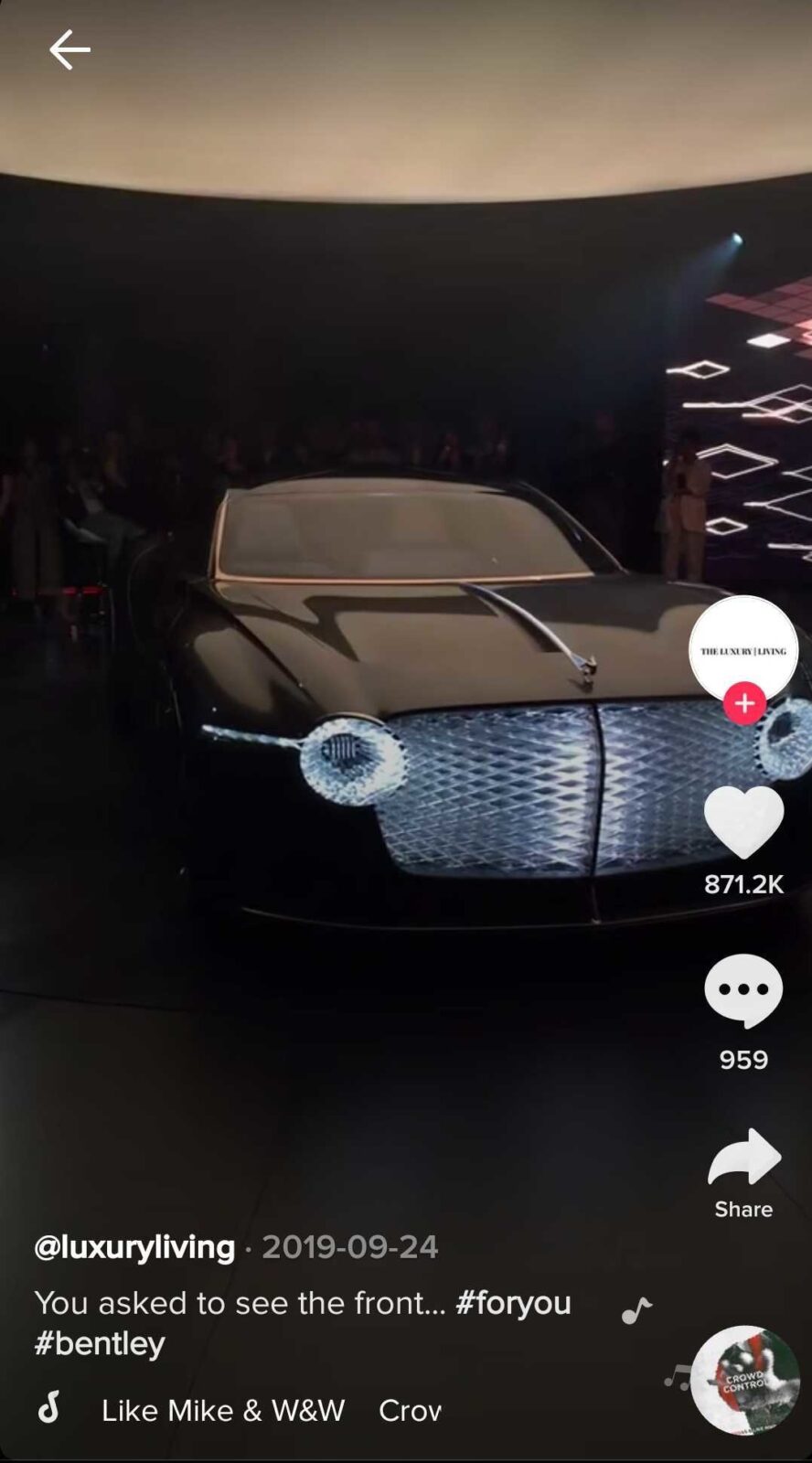 See the full video here.
At the time of writing, this video has had close to 9 million views. Across the board, the stats are really positive: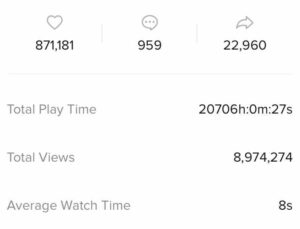 It's All About Fortune And Form
So, why did this video go viral? Was it just luck, or had we uncovered some kind of golden formula? Well, as with any posts or campaigns that go viral on any digital platform, it's a mixture of both. We call it the fortune and form approach.
The most important aspect of this approach is the form – the logic, formula or methods you apply to a marketing campaign based on what you know works and doesn't work on the platform or channel in question.
Take our Bentley video mentioned above. Notice how we posted it from a generic account focused on luxury lifestyle. We didn't post it from a Bentley owned and branded TikTok account. This is part of the form that we know works well. Users – particularly TikTok's young Gen-Zers who can be standoffish to blatant advertising – are usually more receptive to unbranded, user-generated style content.
The aspect of this approach that you're less in control of is the fortune. The same goes for every social platform: there's a degree of luck – being in the right place at the right time, with the right message – that helps a campaign go viral. But, if you do all you can to ensure the form is as good as it can be, then you'll be perfectly placed for when fortune decides to take your side.
Knowing how to market your brand or product on TikTok isn't something that can necessarily be learned overnight (unless you have heaps of luck, in which case you are one of the rare few). It takes time, experimentation, a lot of tweaking and refining, and of course, money. But if you have the right approach, the opportunities for reach and engagement on TikTok are huge.
For The Sceptics…
As with many new, fast-paced and in particular, youth market-oriented marketing platforms and trends, the luxury market can be slow on the uptake. We know premium brands feel sceptical towards TikTok, and we understand why. But with TikTok forecasted to reach 60.3 million U.S. consumers – or about 27% of social network users – by 2024, according to eMarketer, it may be (if not already) one of the fastest and most profitable ways for businesses to reach large audiences.
But it's those audiences that are cause for concern – premium brands may question what the point in using TikTok is when their ideal customers aren't on the platform. It's a good question, but our answer is always this: marketing on TikTok as a luxury brand is not about immediate sales; it's about an investment for the future. The millennials and Gen Z-ers using the platform today are your potential customers of tomorrow. Market to them now, and you'll be the brand they think of in years to come.