SOCIAL MEDIA & INFLUENCER TRENDS | DECEMBER 2020
1. New Messaging Features Launched on Instagram and Messenger
Instagram DM and Messenger have kept us connected while being apart during 2020, with people sending more than 100 billion messages to their friends and family each day on Facebook's family of apps alone. Yet as we know, messaging services are no longer limited just to friends and family.  
More and more brands and businesses are using chat to communicate with their customers, as the demand for more personalised customer service and brand interaction grows.  
As the popularity of messaging increases, so does the demand for new and creative features. And as usual, team Facebook delivers.  
Messenger and Instagram DM are connecting
While it's already possible to connect Instagram DMs and Messenger via a desktop business page, the new feature will seamlessly connect your Instagram DMs to your messenger app, so you can continue the conversation without needing to go back into Instagram.
You can finally reply to individual messages
If you are a WhatsApp user, you will agree how frustrating it can be that Instagram doesn't have the same option to 'reply' to a specific message – until now. This new feature has been launched and is currently being rolled out in new versions of the app.  
Customise your chats with colours and backgrounds
Instagram and Messenger's new feature 'Chat Themes' allows you to add colours and  patterns to your chats. This is an opportunity for influencers and businesses to further personalise and 'brandify' your inbox, adding some personality when chatting to your  customers and followers.  
Introducing Vanish Mode
Taking (another) page from Snapchat's book, Instagram and Messenger's new Vanish Mode feature will allow users to send temporary messages to each other in the form of photos, videos, GIFs, memes, reactions and text that disappear as soon as they are read.  
Before you start imagining all the things that could go wrong, Facebook has made safety a priority with this new feature. 
"We designed vanish mode with safety and choice in mind, so you control your experience. Only people you're connected to can use vanish mode with you in a chat. Vanish mode is also opt-in, so you choose whether to enter vanish mode with someone. If someone takes a  screenshot of your chat while you're using vanish mode, you'll be notified. And as always, you can block someone and report a conversation if you feel unsafe."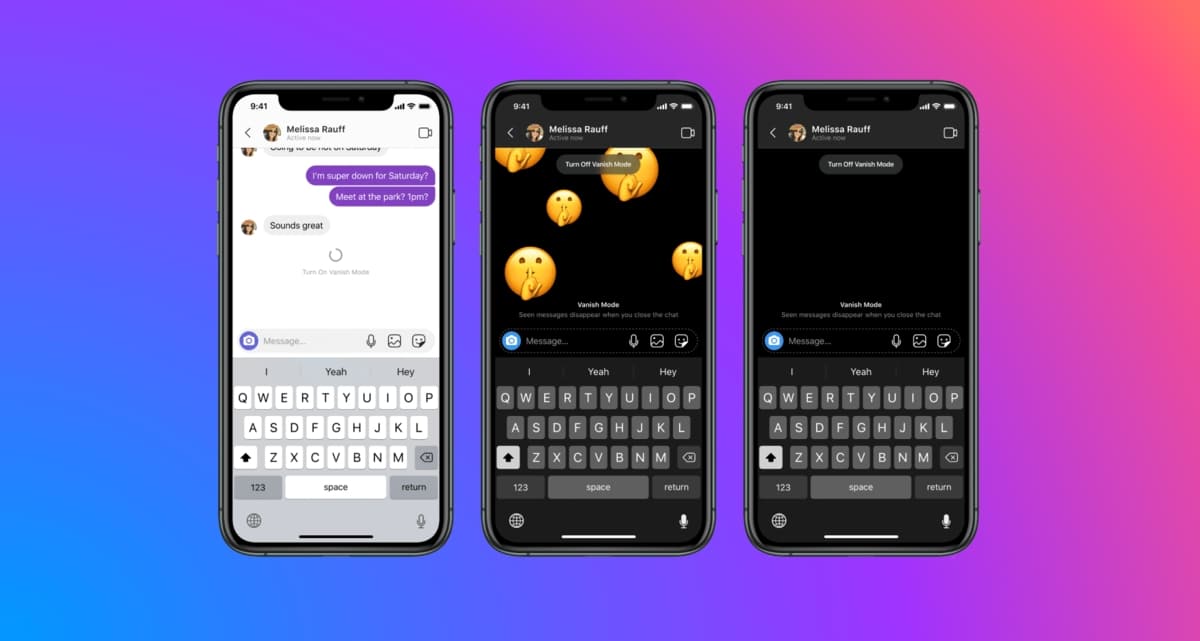 2. TikTok to Increase its Video Length to 3 Minutes
"How much can you share in 60 seconds" is part of the appeal of TikTok, and some may argue that is where its true genius lies. Yet the app makers are changing things up by  increasing the allowed video length to three times as long, on the one hand allowing for more variety of content, while on the other, taking away what makes TikTok, TikTok.  
Much like Twitter did in 2017 when the social network doubled its famous 140 character limit from 140 to 280, TikTok's decision is certainly a bold one.  
Yet with the increased demand for video content and the captive 800 million active users, their decision may just draw a whole new audience of brands and creators looking for an alternative to Facebook owned apps. And as we know, boldness paid off for Twitter. 
This increase in time limit offers an opportunity for a whole new genre of content including  tutorials, how-tos and more authentic and in-depth video sharing, opening up the platform to those who are not drawn to the dance off, challenge-based and funny skit style of content that currently circulates on the app.  
This extra length feature is only currently available to users that have been granted early access, yet will no doubt be rolled out app-wide soon. For brands and influencers looking to expand their reach, the time is ticking to get on TikTok.

3. Product and Branded Content Tags Now Available for Reels
Whether you love them or hate them, Instagram made sure that Reels got your attention. They even shifted their algorithm and placed a shortcut bottom centre, showing us just how much they are currently favouring the TikTok inspired 15 – 60 second video clips. 
With the launch of Reels product tags, it's more important than ever to get on the short form video content train. 
Product tags, which have been available for Instagram posts and Stories since 2019, make Reels posts shoppable with just one click. Consumers will be able to make swift purchases from watching a Reel without ever leaving the app.
In addition, Reels can now also be used as sponsored ads, seamlessly integrating entertainment and commerce in the way that Instagram is so famous for. As with all their ad-based content, the sponsored ad Reels will also include a 'branded content' tag that is intended to improve transparency for advertising.

4. Google Maps Adds a Community News Feed
Could Google finally join the ranks as a reputable social network? Despite being as big as, well, Google, the search engine giant hasn't had much success on the social networking front. But their addition of a community news feed to Google Maps and Google My Business could just be the very thing needed to change that.  
If you are a business owner with a brick and mortar business, you will know the importance of being visible on Google Maps. Google is now expanding the features of the platform and  making use of the network by adding a news feed that will allow both businesses and customers to post updates, photos, reviews and recommendations. The purpose of the platform is to connect businesses with their customers, so they can ask questions directly, share information and interact.  
As a user, your individual feed will be tailored to your specific interests, connecting you with other customers, experts and businesses that align.  
This feature is currently only available to verified Google My Business accounts, which will no doubt become an even more essential platform for all business owners.

5. Instagram Live Goes Private
Anyone who has used the Instagram Live feature knows that broadcasting in this way is  daunting at best, yet the popular feature is a favourite for genuine brand-to-consumer interaction. Reports indicate that Instagram will soon be offering a Private Instagram Live option, which opens up a world of opportunity for those looking to experiment with the feature.  
In private mode, users can start a broadcast without automatically notifying followers, which gives people a much needed 'warm up' period that the original feature lacks. You will have the option to invite certain followers only, or open it up for the public. 
Want to host a virtual private or exclusive invite only live event? This feature will allow you to do that, providing an opportunity for brands and influencers to offer ticketed and VIP-style events.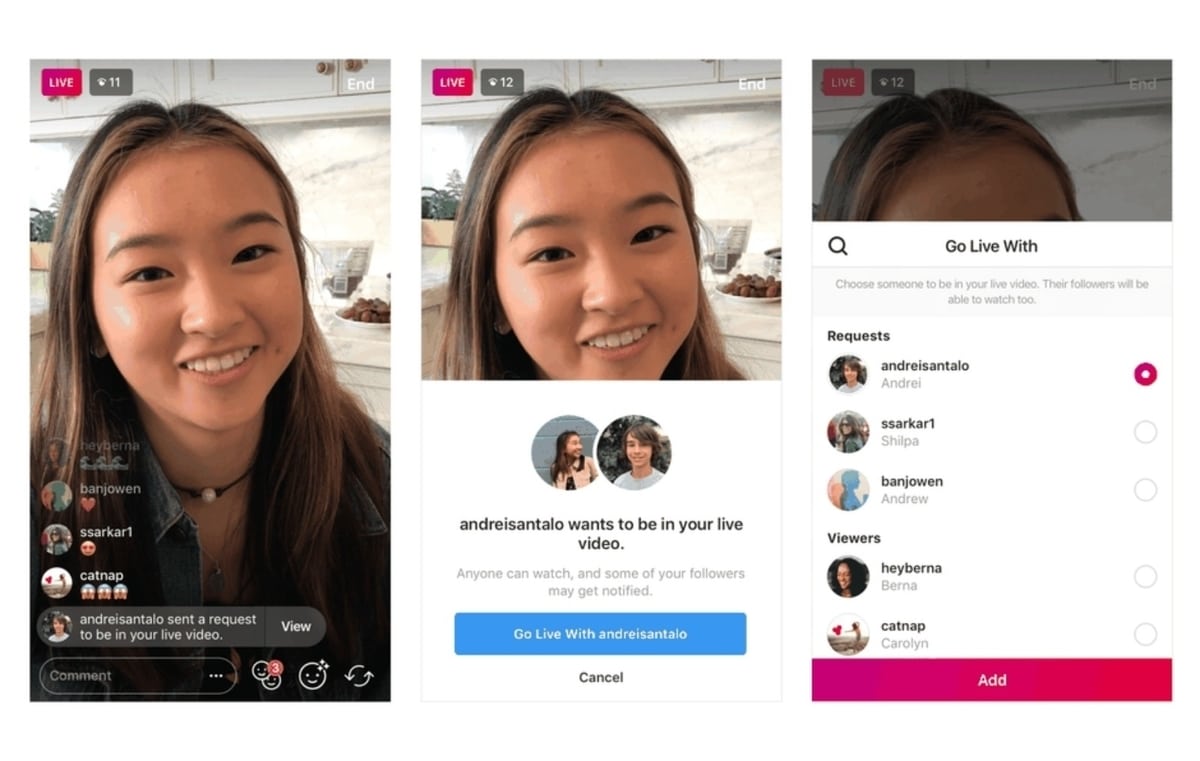 Want to get going on your first influencer marketing campaign? Get in touch with us.